The Valley of Roses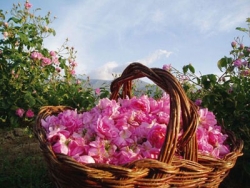 The rose, the queen of flowers is the symbol of Bulgaria.
For centuries Bulgarians have planted roses, picked their flowers and extracted their heavenly essence – attar of roses.
The Rose Valley is magically transformed with breath-taking blooms in May and early June each year when The Festival of Roses is celebrated in many towns of the region. Rose picking rituals and folklore displays are presented.
Join us on this marvelous trip and treasure your memories of the essence of Bulgaria!
Only on May 24th and 31st, and June 7th, 9th and 14th you can participate in a Rose Picking!
Guaranteed departures!
The Valley of Roses
Kazanluk, 1-Day Excursion
Early morning departure - 6 am
Drive via Kazanlak to the village of Tarnicheni, close to Kalofer. Visit the local old-time distillery and attend a lecture on rose water and rose oil distillation, and watch rose oil distillation. Meet the local producers and taste the aroma of natural oils, produced here: rose oil, lavender oil, etc.Visit the rose fields - you will participate in a rose picking in the rose fields of the village.
Kazanlak - lunch; a visit to the Memorial Church in the village of Shipka; picturesque drive via Shipka Mountain Pass and visit to the monument at the Mount of Stoletov; continue to Etura – an open-air ethnographic museum; late evening return.
Every Wednesday
Price per person: 97 lv. (50 Euro)
Children 2-12 years: 50 lv. (25 Euro)
The price includes
:
A/C transportation;
lunch;
entrance fees;
guiding.
Gallery