First Class Catamaran Cruise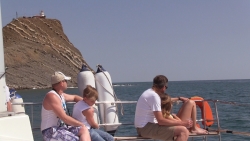 Imagine the pleasure being on board of ,,Paradise Sailing" for a perfect sailing trip. The catamaran is designed and manufactured in 2015. It is equipped with the latest technological advances for its easy and safe navigation, guaranteeing at the same time comfort and aesthetic delight for the passengers.
We would be happy to respond to your inquiries about chartering the boat by small groups or parties of guests, who would like to enjoy their privacy on board without the presence of other tourists. In addition to the services and food/drinks cited in the standard brochures, our bar offers an excellent selection of wines and drinks that will satisfy the most demanding guests.
TUE - SAT
MORNING PROGRAM

/

AFTERNOON PROGRAM
The free bus will take you directly to Nessebar Harbor.
09:00

/

14:30
After boarding we will inform you about the program and safety rules. You will be welcomed with drinks and after that everything is set for an exciting sailing trip, during which you can relax without any worries. You can just have fun – the bar is open and tea, coffee, beer, soft drinks, croissants, cookies and crackers will be served. The music is on and our crew will boost your mood!
Have fun and enjoy the pleasure of being our special guests on board of the newest catamaran in the region, which arrived from the modern shipyards in France in the beginning of summer 2015.
We approach the coast where you can dive, swim or sunbathe. You can use swim fins and goggles.
While you are relaxing or taking pleasure in different activities, an elaborate lunch is served for you on board.
We weigh anchor and sail back, while you are enjoying the panorama of the coast.
13:00 /

18:30
We moor at Nessebar Harbor. We will take you back to your bus stop.
Duration: 4 hours

Price per person: 105 Levs
Children 2 - 11,99 years: 50 Levs
The price includes: transport, yachting, sailing, bathing, lunch
LUNCH
All Inclusive Drinks: tea, coffee, mineral water, soft drinks, white wine, beer, sparkling wine
Menu:
Cookies, crackers, croissants
Salads:
Grilled vegetables: marrows, aubergines, mushrooms, onions, lettuce, carrots, tomatoes, cabbage, cucumbers, green onions
Snacks:
Flat sausage (lukanka), larded sausage, salami
Yellow cheese, cottage cheese
Main:
Fish,
Chicken breasts,
Bread rolls (white, brown)
Gallery