Under The Moonlight Cruise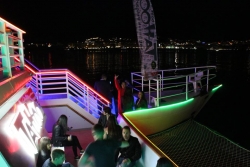 "UNDER THE MOONLIGHT" is a unique evening excursion, which is suitable for all ages and for the whole family. The magical experience we offer you on the ship is second to none. You will be immersed in a romantic journey under the moonlight, crossing the red carpet with a glass of Champaign in hand.

The departure takes place at the port of Nessebar where you will be transferred by organized transportation. When stepping on the board you will be welcomed by a glass of Champaign and a bottle of white wine or Rosé for each couple. All nonalcoholic drinks during the time of sail are complimentary as well as the different platters of cheese, fruits and other delicacies.
You will enjoy the beautiful sunset, a live musical program and an exclusive magic show.
Immerse yourself in the world of an unforgettable fairy tale at sunset with the people you love!
Price: 30 Leva per person
children: 30 Leva
Gallery